Name: Accoyo Princess Breed: Suri Sex: Female
DOB: 6/11/2006 Dam: Our Accoyo Princess Buttercup Sire: Pperuvian Torbio


Price $21,000--Financing available

ATC Accoyo Princess Bride by Torbio has one of the most lustrous fleeces I have seen. She is a beautiful fawn full Accoyo female. Her fleece sparkles on a cloudy day. She is easily picked out by everyone as a female with gorgeous fiber. Princess is bred to our fawn full Accoyo Herdsire Maurizio. The odds of producing color with these rare colored Accoyos are certainly stacked in our favor.
Princess delivered a fawn male "Shaman" on November 14, 2009. She was bred back to Accoyo Maurizio and Sultana is every bit as gorgeous as Princess and Shaman.

She is the Suri Accoyo female everyone wants! Perfect in fiber , conformation and personality. She is an excellent Mother with plenty of milk. An easy breeder and birther.

Princess is bred to WKL Turn It Up and due on 9/6/2012*****



Won 1st Place & Championship - North American Alpaca Show - 3/07

Won 5th Place - The Futurity Show - 2007

Won 5th Place - MAPACA Jubilee - 2007

Won 2nd Place - PAOBA Breeders Showcase - 2007

Name: Accoyo Shaman Breed: Suri Sex: Male
DOB: 11/14/2009 Dam: ATC Accoyo Princess Bride by Torbio Sire: DDF Accoyo Maurizio


Shaman is a rare Fawn Full Accoyo male and both Dam and Sire being the same rare fawn color. Shaman has great Suri style, distinctive lock structure, slick hand and great density that puts this male at the head of his class.
***Shaman has begun his breeding career***

Shaman is a true representation of his parentage and reliable production is key when considering a male for breeding. The depth of his pedigree with Bruxo and Torbio have proven to be outstanding and we expect Shaman to continue in their tradition.

Shaman's Sire Maurizio has produced dark colored crias for Shasta Springs. Maurizio allows the Dams color to come through. Maurizio's most recently born crias were dark brown, medium grey and pinto (black and white)
Shaman's Dam is a fawn Torbio daughter completing this pedigree.

With the disappointing death of DDF Maurizio in September 2010. We will only be selling half interest in Shaman. We feel he has the Accoyo color genetics that we want to continue breeding at Shasta Springs.

***

Name: Arabella Breed: Suri Sex: Female
DOB: 6/1/1996 Dam: Unknown Bolivian Sire: Unknown Bolivian


Arabella is going to be 17 this year. Her health is great and we will probably keep her here for the rest of her days. She has produced many outstanding crias for us! They have all been sold.

Arabella is a beautiful medium silver gray Bolivian Imported Female Suri.   Arabella has produced multiple grey offspring.  Notice Arabella's perfect top line. Her conformation is perfect and her crias have all had a very erect presence that makes them stand out. 

Arabella's crias have performed well in the show ring. She has produced fantastic grey Suris for Shasta Springs starting with ABCAdmiral our signature grey Herdsire. Her other male offspring have gone on to become Herdsires for other alpaca farms.
Arabella has an easy-going demeanor which is unusual for an import and all her crias have been exceptionally friendly.

Caledonya was born on 6-27-07. She is fawn with a smokey grey skin. I suspect Caledonya will produce grey when bred to grey.

Arabella's next breeding to Radar produced
a gorgeous Light Silver Grey female "Duchess". Duchess was sold at the Extreme progent Auction to Noble Glen Farms, David and Kellie Butsacks. Congratulations and Thank you!

Arabella is presently bred to "Turn It Up" He is a true black Herdsire, Shasta Springs co-owns with Meadowgate Alpacas. This union produced a medium silver grey male and is sold.




Name: Bayleigh of CCR Suris Breed: Suri Sex: Female
DOB: 4/28/2006 Dam: LCA Tabu Sire: WWR Seattle Mist


Bayleigh is a beautiful light rose grey suri female. PRICE $18,000 as she is well worth it!


She is presently being bred to GLR Coyhaique. We are extremely excited about co-owning Coyhaique with Great Lakes Ranch.

Bayleigh delivered Shiraz on August 25, 2009. Bayleigh and Coyhaique have similar gorgeous greys, fawns and brown colors running throughout their fleece. They are both extremely high luster rose grey Suris. A rose grey Suri is the rarest of all Alpacas.

Bayleigh has produced 3 rose grey offspring with incrediable fleece. She would be hard to part with production of such high quality.

Name: Cassie Breed: Suri Sex: Female
DOB: 9/15/2010 Dam: Wolfpaca Blushing Sire: USA Moonshadow


Cassie was the grey female Champion at Mapaca 2012. It was tough competition and she was radiant!
Shasta Springs plans to keep Cassie in our breeding program but, we are always entertain any offers!

Cassie is presently bre to GLR Coyhaique and due October of 2013****

Name: Gardenia Breed: Suri Sex: Female
DOB: 10/3/2001 Dam: Grey Cloud Sire: El Nino


Gardenia will be offered for sale at Shasta springs private Alpaca Street Auction on October 10th at 9:00 E.S.T.

Gardenia has been one of our best producers and comes with a free breeding to the Shasta Springs Herdsire of your choose.

Gardenia is a magnificent, dark silver grey suri female out of two grey suri parents. She has consistently produced easy to to sell offspring and this year we decided she needed a break.

Gardenia is Sired by El Nino, a medium silver grey Herdsire famous for his offspring winning in the showring. His offspring most often placing in the top three places. He has excellent conformation and is very upright.

Gardenia's Dam, Grey Cloud, was hand picked for Ameripaca's grey suri breeding program from Bolivia.

Gardenia's first two crias outstanding greys. She delivered her third cria on 6/6/06 "Ashton" He is a gorgeous bayblack male.Ashton is a Herdsire for Tuscarora Alpacas.

Gardenia bred to Admiral, produced a MSG female Chivas in December of 2007.

Gardenia bred to Acero Marka's Sergio produced a black female cria "Truffles" on April 9, 2009. Truffles is sold

Gardenia's female appaloosa cria was Chimay DOB 6-3-2010. This production was out of GLR Coyhaqiue. Chimay is sold!

Gardenia was last bred to GLR Coyhaique DB male "Miller" sold

Name: GLR Coyhaique Breed: Suri Sex: Male
DOB: 6/24/2006 Dam: GLR Amelita Sire: Sierra Bonita's MacGyver's Synergy


Shasta Springs Alpacas is proud to announce our Co-ownership of GLR Coyhaique with Brad & Jandy Sprouse of Great Lakes Ranch.

We are so excited about this Champion male, and his first crias. They hit the show ring in a big way. Many blue ribbons and Championship where classes were held in greys!

We are not offering outside breedings with this male. We want his genetics selective!

Coyhaique is presently residing at Shasta Springs.

Show Record
1st Place & Champion - The Futurity Show & Sale - 2007

1st Place & Reserve Champion - AOBA Nationals - 2007

1st Place - Empire Extravganza--no Champion Class--The Judge said Coyhaique exhibited luster she has never seen before in a grey Suri.

Paoba Fleece show 2nd place--no prep on fleece
Mapaca Fleece show 2nd Place--no prep on fleece

His shorn fleece shows gorgeous color tones throughout his outstanding lustrous fleece.

Name: GT Peruvian Maid of the Mist Breed: Suri Sex: Female
DOB: 7/30/2005 Dam: HHSF Peruvian Domenica Sire: WWR Seattle Mist


Special Price is $7000***


Maid of the Mist has developed into one of my favorite alpacas. She has a very different unique modern grey coloring and I have loved all her crias!

Her first cria is Jamocha. He is a medium fawn male born out of USA Peruvian Jaquar in November of 2009.

Maid in the Mist's second cria at Shasta Springs was Javelin. She had been bred to GLR Coyhaique and Javelin was a modern rose grey and probably my favorite cria that year. I loved him but, he sold!

Maid in the Mist 's third breeding was bred to Paverati and produced a dark brown male "Hayden" on 5-1-2011-sold-

Maid in the Mist las cria is a gorgeous female cria Dominique. Dominigue is a deep dark true black and born on 9/8/2012. The Sire is Paverati! Great Job!

Maid in the Mist could jump up your breeding program with the high quality crias she has proven to produce each year.

Special Purchase Price $7,000--

Name: Magnolia Breed: Suri Sex: Female
DOB: 10/3/2010 Dam: Shasta Springs Magic Sire: DDF Accoyo Maurizio


1/2 Accoyo grey female!!
So Rare!!!
Gorgeous!!!
PRICE $21000 - Interested-make an Offer!
Presently bred to GLR Coyhaique and due 10-4-2013***

We are very proud of this young female. She is the only grey offspring out of the late DDF Accoyo Maurizio and he was one of my favorites. Magnolia has exceptional luster and lock definition for a grey. Her conformation is perfect with a beautiful Suri head.

Show record:
Maba - Second Place--Tupelo Honey was First
Mapaca--Second Place/Firecracker was first?
Buckeye -- Second Place/Tupelo was first?

Name: Mirabelle Breed: Suri Sex: Female
DOB: 9/8/2009 Dam: Morgana Sire: DDF Accoyo Maurizio


Female- PRICE $16000--
This includes her black female "Belize" born 10/1/2012

Balboa's Artemis is the Sire of this black cria "blize' and we are ceratinly pleased. She will be headed to the show ring this Spring.

Mirabelle has one of the best fleeces at Shasta Springs. No conformational flaws with this female and now a proven producer and great Mom. She delivered easily and has plenty of milk.

Purchase Mirabelle and Belize now and take Belize to the show ring and we will rebred Mirabelle for you to the Shasta Springs Herdsire of your choice!

Show record:
Mapaca second place- 2010
Aoba - second place - 2010

Mirabelle won second at Mapaca is one of the toughest brown classes I have ever been in. She turned around and one second at AOBA in again a highly competitive full tough class! I was pleased and knew we had an exceptional female!

Name: Morgana Breed: Suri Sex: Female
DOB: 6/5/2005 Dam: FGA Star of Cool Fire Sire: Captain Morgan


Morgana is being offered at our Private Alpaca Street Auction on October 9th, 2012 at 9:00 EST.

She has been an superior breeder for Shasta Springs. It was a hard decision to offer her in this Auction. We decided to keep her daughter Mirabelle over due at this time, but not wanted to loss these genetics. She will be a great asset to all breeding program possessing only high quality characteristics! She is presently open and ready to walk into your breeding program. Shasta Springs purchased her at the Futurity Action in 2007 after her multiple blue ribbon winnings and she has produced nothing but, blue ribbon offspring.

The Captain's Morgana is a gorgeous dark brown Suri female. She is a Peruvian Macgyver grandaughter and Captain Morgan daughter.

Morgana has an impressive show record:
First Place 2006 TxOLAN Spectacular
2nd Place International Odyssey--CA
reserve Champion Alkpacapalloza 2006--WA
Color champion at PAOBA 2006
First Place 2006 AOBA Nationals

Morgana was bred to Sirius Black in 2006 AOBA National Champion and produced a stunning dark brown male "Brownstone"-sold as a Herdsire.

Morgana second cria was a male Shasta Springs Kona. Kona is a dark fawn, born on Sept. 5, 2008 and was sold as a Herdsire.

Morgana was rebred to Accoyo Maurizio and delivered a dark brown female - Mirabelle on 9/8/09. "Mirabelle is a winner in the show ring! She definately has it all!

Repeating the breeding to Accoyo Maurizio produced an outstanding young male "Malakai" He championed at 6 months and his first show!

Morgana is rebred to GLR Coyhaique since DDF Accoyo Maurizio has died. This will be an exciting breeding though we miss Maurizio!

Morgana's 5th cria was Wyatt and again is sold.

Let her produce amazing crias for you! BID




Name: Peruvian Paverati Breed: Suri Sex: Male
DOB: 9/22/2007 Dam: Prima Rosa De Pesa Sire: Snowmass Wild Fire


USA Peruvian Paverati is one of my personal favorites. He must know it as he runs to me everytime I enter his field area. An exceptionally friendly male I hope he produces crias with his personality.

His fleece is exceptional as well. Gorgeous grey locks all over his well covered body. He has a nice solid bone and an extremely soft handle. He will be a great addition to Shasta Springs breeding program adding new grey genetics. He has begun breeding this Fall 2009 and we have him started on 3 of our high quality grey females. An opportunity to purchase his genetics in utero. The three grey show winning females he is bred to are: Pamela, Chivas and Annie Oakley.


*6th Place - Futurity - 2008
Reserve Champion - Buckeye Show - 2008
1st Place - SEPA Show - 2008
2nd Place - MABA Show - 2008
1st Place - Indiana Showcase - 2009
5th Place - Mapaca -2009- starting to matt @ 19 months with loads of density.

The regrowth and penciling on Paverati's fleece is impressive!

We are going to keep Paverati in our breeding program but will consider offers on a partnership.

Name: Shasta Springs Nutella Breed: Suri Sex: Female
DOB: 6/14/2012 Dam: Juan's Glittering Moment Sire: GLR Coyhaique


Nutella is definately one of my favorite alpacas from all our breedings. She has the gorgeous array of colors that I can not duplicate easily. I am offering her in our 2014 show package because I feel I must. She is the alpaca that will turn everyone's head as they walk by your show pens. I would be happy to keep her and look at her in our pastures forever. She belongs in the show ring this Spring.

Her dam is Juan's Glittering Moment. If I do any future breeding--Glitter will be at the top of the list producing high selling offspring every year. Every crias has been loaded with multiple grey color and ultimate fleece characteristics.

Her Sire is GLR Coyhaique. He has produced outstanding crias for Shasta Springs and taken our breeding program to a top level. Every offspring produced with his gorgeous fleece and eye popping colors have easily sold.

Nutella will only be sold with the 2014 show package.

Name: Soccorro Breed: Suri Sex: Male
DOB: 6/17/2010 Dam: GLR Skye Sire: Shavano


An incredible medium silver grey Herd Sire!
Purchased from Great Lakes Ranch as a Junior herdsire after winning 2nd place at all the major shows that year. He was shown at The Futurity, AOBA and Mapaca.

A Shilvano son and the only classic silver grey produced by Shilano.

I have not been breeding this year and he is ready to go. We have confirmed several outside breedings from customers.

I would love to see this male genetics being used. Do not hesitate to make an offer or package him up with one of females you would love to own.

Name: Tapestry Breed: Suri Sex: Female
DOB: 9/12/2012 Dam: MFI Minerva Sire: Shasta Springs Balboa's Artemis


Tapestryy is a gorgeous medium silver grey yearling female. I absolutely love her multi grey colors. She is an outstanding combination of her Dam and Sire. I think she will be at the top of previously shorn her grey class. She has great coverage and it is extremely lustrous for a grey. She is ready for breeding when she finished the show season. She has a fun curious personality and will be fun to have at the shows.

Her Dam is MFI Minerva. Minerva is an El Nino daughter and her fleece was a silky soft gorgeous grey and a winner in the fleece shows.

Shasta Springs Balboa's Artemis is Tapestryy's Sire and with only four crias on the ground. I love and am impressed with every one. Just like his Sire Balboa, Artemis has no flaws that I see. I love his elite super dense lustrous fleece, upright stately Herdsire presence, friendly personality, and perfect conformation. His density is amazing and every cria has fortunately inherited this important quality.

Tapestryy is only offered in the Shasta Springs Show Package.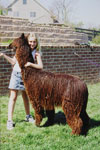 Name: Tobago Breed: Suri Sex: Male
DOB: 6/13/2001 Dam: Moonlight and Roses - Bolivian Sire: Inspiration - Bolivian


Tobago is an awesome Bay Black/Mahogony Male Suri. He is Full Bolivian. His Sire is Andy Tillman's Inspiration and Dam is Rose Grey "Moonlight and Roses". Moonlight has been an excellent producer for us.

Tobago won second place as a bay black at Mapaca in April 2003. Our Kyptonite won first. I think Tobago is a deep mahogony.(No such color?) Whatever you may think, He is undoubtably gorgeous. He is one of Shasta Springs favorites with his unusual color and incredible thick twisted perfectly uniformed locks with glowing lustrious fiber. Perfect conformation on this big boned male.

Tobago first crias hit the ground in the Spring of 2005. He is producing some of the most lustrious crias and we are so pleased with his production. They are just loaded with tight twisted locks to the skin and luster that is apparent from a far distance.

It is apparent to all visitors that Tobago is a great male Suri.


True Name: Artemis Breed: Suri Sex: Male
DOB: 7/16/2009 Dam: Akianna of PVA Sire: MacGyer's Balboa


Artemis has two female crias on the ground at Shasta Springs--both will be in the show ring this Spring-2013--simply gorgeous fleece!!

Artemis is a true black Suri male. His fiber is extremely dense, has an exceptional long staple length with great coverage from head to toe. His fleece has a greasy feel with glowing luster. He presents himself with a regal presence as if aware of his impressive pedigree. A son of Balboa who needs no introduction to the Suri world.

Shasta Springs has sold half interest to Mark and Tyra Hillyer from Ohio.

Artemis took 4th place at AOBA as a young Juvenile in a full class.

The genetics pumped into this male are amazing and we have high hopes for his breeding production. We are accepting outside breedings for this male.

Artemis started his breeding career in October 2011.